Lord Hanuman (aka Hanumantha) belongs to the Vaanara community of peninsular India. He was the chief of the Vaanara Army organised by the Vaanara King Sugriva. Hanumantha was born on the Full Moon Day (Poornima) of Shukla Paksha of the Chaithra month, as per the Chaandramaana Calendar (Calendar based on the movements of the Moon).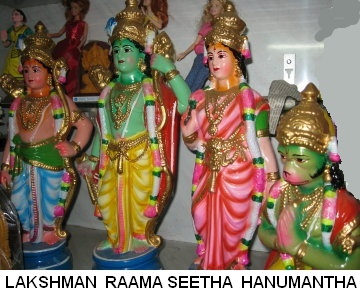 Learn More about Hindu Calendar

The birth anniversary of Lord Hanuman (aka Hanumantha) is celebrated by Hindus of all castes and subcastes every year.

There are many temples dedicated to Lord Hanumantha in India and abroad. Lord Raama's portrait in which Hanumantha sitting at the feet of the Lord, is very popular and found in almost every house of Hindus. This portrait or a similar sculpture is garlanded on the Hanumanth Jayanthi Day. A special worship called Puja is performed to Hanumantha by decorating the portrait with flowers, raising Aarathi to the accompaniment of Jaagate-beating and blowing Shankha , offering Naivedya, and ending with Sastanga namaskara at an appointed hour on this day in every Hanumantha Temple or in every home where there is a portrait or sculpture of Lord Hanumantha.

As stated in the epic Mahabharatha, during the Vanavaasa of Raama, Lankan King Raavana kidnapped Seetha and took her to his palace in Lanka. Seetha was imprisoned in the Ashoka Vana in the palace premises and she was persuaded by multiple means by Raavana to marry him. She rejected the evil King's demands and waited for her husband to come and free her from captivity. Lord Raama fought a prolonged war with the Lankan King Raavana to free Seetha from captivity.

Hanuman became deified because he took part with Raama in his war to free Seetha. Hanumantha (alias Hanuman) is worshipped as a God by Hindus and his birthday known as Hanuman Jayanthi is observed as a festival. Hanuman, Lakshman, the king of monkeys Sugriva and many others helped Raama in his war with Raavana and therefore they are also worshipped.

However, Sugriva is not clubbed with Raama because his efforts in the war was limited and localised. Hanuman accompanied Raama when the latter returned to the capital Ayodhya after his triumph in the war. Hanuman was given a respectable position in the court of Raama after the latter occupied the throne in Ayodhya.


The utility of temples for God Hanuman is their effect on young people. God Hanuman represents valour, courage, bodybuilding, sexual continence, and obedience. His role in the Kishkindha segment of Raamaayana portrays him as a strong, fearless and obedient servant of Sugriva as well as his friend and benefactor Raama. If all young people would emulate the qualities of Hanuman then half of the population would be living in assured supply of honest service.


Hanuman was the great monkey-faced warrior who helped Raama find his wife Sita in the kingdom of Raavana.

God Hanuman who happened to live during Raama's lifetime, did feats which are super-human, like crossing the sea between India and Sri Lanka, exploring Raavana's capital and burning it down single-handed and fighting fiercely throughout the war between Raavana and Raama.
Another name for Hanuman is Maruthi.

Where do we find a young man today who would fully dedicate his body, mind and life for the welfare of his employer? Where do we find a son who will listen to his father's advice on various matters concerning his career, education, marriage, travel and habits?

If all young people go to the temple of Hanuman and pray him to grant them his virtues and then try to become like Hanuman in obedience to the master, in bravery and in honesty then there is certainly a lot of utility in making temples attractive.

A very large proportion of Hindus today have accepted Hanuman as their personal god and worship him daily with flowers, scented sandalwood paste, bananas, coconut, and aarathi. They keep the portrait or an idol of Hanuman in their god-room (a small temple within the house) and pray the god to grant them strength and courage to carry on their day-to-day activities of study, of job or of business.

There are huge portraits of Hanuman in physical education rooms, gymnasiums, sports offices, and Yoga classrooms. Hanuman was born to Kesari and Anjanadevi on the Full Moon day of the first fortnight in the month of Chaithra. But this day differs in relation to the common calendar from year to year. Hanuman is a very popular personal god and therefore it is wise to denote a festival holiday for him on his birthday.

Concluded.