I began smoking cigarettes when I was 17 years old and was working in my father's shop after my high school graduation. During the coffee break it became a habit for me to buy one cigarette for one paisa (a copper coin money) at the small beeda shop on the way to the Taj Mahal restaurant at which I was having my snacks and a cup of coffee or tea during the coffee break. I was being paid the amount of money sufficient for the snacks and coffee by my father at the time I left the shop for a coffee break. Out of this money I used to save the amount required to buy a cigarette. I do not know why and how I began this habit. If there were no cigarettes available in the shops or if there were no one who smoked in front me, then probably I would not have had a chance to begin smoking. I was not offered cigarettes by any friend for me to begin smoking.

I felt a sort of pleasure, which I can not describe adequately, when I took a puff or two of the cigarette. There was a pleasure in placing the cigarette between the lips first. There was a pleasure in lighting the cigarette after striking a match. There was an intense pleasure in drawing the first puff from the lighted cigarette. The pleasures of smoking were eagerly awaited by me and the whole sequence that began from working in the shop, getting tired after work for 2-3 hours, having snacks and coffee in the restaurant, followed by, like the icing on the cake, smoking a cigarette, made me feel sort of rejuvenated in order that I was ready for another couple of hours of hard work in the shop.This practice of buying a cigarette from the beeda shop continued with breaks of absence of days or months. Even after I joined the college for higher education I bought cigarettes if I could spare some change. After two years in the science college, I joined the medical college for M.B.B.S. course and throughout my college education years I smoked cigarettes.

I was buying only one or two cigarettes at a time. I almost never bought a whole packet of cigarettes. Throughout the time I smoked cigarettes, I felt the rejuvenation and relaxation that followed the smoking.

I was told of the bad effects of smoking constantly by everyone who saw me smoking. I read about the diseases that became worse sooner because the patient smokes cigarettes. The prognosis of many diseases was worse in a smoker than in a non-smoker. Yet I continued to smoke about 4-6 cigarettes a day. None of my close friends smoked cigarettes. No one joined me when I wanted to light a cigarette.

There was one important effect of smoking, which I noticed. This effect was on the intestinal system. I found that smoking after a meal or a snack was more pleasurable than result that I felt my abdomen to be light. I also found that by lighting a cigarette in the toilet I could have a clear and complete motion.My smoking habit consisted of about 4 or 6 cigarettes a day even after I quit medical college and began my private medical practice.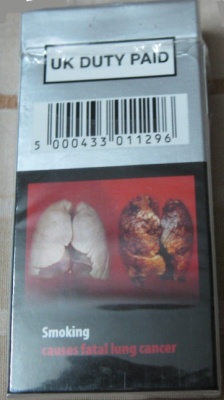 LARGE CANCER PICTURES ON THE PACKETS OF CIGARETTES.
I ignored all withdrawal symptoms. I did not use any alternative methods of use of tobacco like sniffing snuff, chewing tobacco with paan, etc. I did not have to use toffees, chewing gum or other stuff to keep in my mouth to help me forget smoking. I had some difficulty going to the toilet and getting a good and complete motion initially but I ignored this symptom totally.
I put on some weight but then I reduced my calories by eating less, to reduce the weight from time to time. My weight continued to rise and my waist line became larger and larger. However I did not return to smoking for any of these symptoms I experienced after I quit smoking. In the year 1994 when both of my kids moved out of my house I began to smoke again, this time with renewed desire to enjoy the habit fully.

I had quit smoking for about 12 years when I restarted smoking. I found that smoking kept me from eating too much. It helped to skip snacks when I wished to diet in order to keep my body weight down. Smoking also helped me clear my bowels completely every time I went to the toilet. I was not subject to any feeling of reluctance to smoke because there was no child in my home when I restarted my smoking habit. My wife does not smoke, and she tries to discourage me from smoking. But I tell her that I enjoy smoking and why should she prevent me from enjoying a little bit?


My wife does not show very strong repulsion to my smoking and therefore she allows me to smoke which I do only in the toilet. I light a cigarette every time I go to the toilet. I do not smoke after meals and snacks. I prefer to smoke before my meals and snacks but then only in the toilet.

After I went abroad in the late 1960s I continued to smoke both at home and in my office at the hospital. There was no such forceful campaign in those days against smoking and almost 50% of the doctors smoked cigarettes. The cigarettes that I smoked abroad were longer in size and the tobacco was of better quality. However, I was conscious of the effects of my smoking on my children at home and therefore I avoided smoking in front of my kids. I smoked only in my office and sometimes at home by closeting myself in the bathroom.

MY PHILOSOPHY ABOUT SMOKING

I have my philosophy developed regarding this habit of smoking.

I find that drinking coffee or tea is more harmful to our health than smoking. The coffee and tea habits are worse than smoking. It is unfortunate that we are now letting even little babies drink coffee or tea at home and outside. Drinking coffee with sugar and milk adds calories to our daily intake and can result in increase in our body weight. This does not happen with smoking. Smoking helps one to eat less, and it can also help one to kick the habit of drinking coffee if one tries.

Smoking allows one to avoid starting bad habits such as gambling and drinking alcohol. (If one is already addicted to gambling and alcohol then smoking can not help the person to kick such habits.)

Smoking continues to be a source of renewed energy for all kinds of workers who work for hours together in factories, industrial sites, agricultural fields, and every place where the work is strenuous or boring.

A smoke is safer than a cup of coffee or tea.Now that the Indian government is coming up with a ban on smoking in all places of private and public businesses, parks, railway stations, bus stands, etc. there will be a problem for those who habitually smoke for relaxation and rejuvenation in their workplace.

I would rather impose a ban on drinking coffee or tea in these places also but then more people drink coffee or tea now-a-days, and a ban on it would be disastrous.

Concluded.

WHAT HAPPENED AFTER I RETURNED?

I returned to India in 1977 but I did not quit smoking. I continued to smoke about 6 cigarettes a day in all, both in my office and in my I house. I continued to enjoy the smoking and it continued to give me a sense of "rejuvenation and relaxation."

When my kids grew up and they could look up to me as a good father free from vices, I realised that it is better to quit smoking. I also wanted to test my mind power in quitting the habit. There was frequent news items published in the newspapers and magazines about the dangers of smoking. There was a campaign against smoking that became more and more unbearable to a smoker like me. Also being a medical doctor I wished to be an example to my patients by quitting the habit permanently. I showed that it is not impossible to quit smoking if one wished strongly.

WHEN I QUIT SMOKING

So one day in the year 1980 I quit the habit and stopped smoking altogether. Believe it or not, I stopped smoking totally and never accepted a cigarette then on.

I was not a group smoker, who smokes in company of others. A group smoker can not smoke alone. He needs some one to give him company while he smokes. Since I was not a group smoker I did not have any one to force me to smoke once I kicked the habit.