The Hindu Festival of Raamanavami

Lord Raama was born in Ayodhya to King Dasharatha and Queen Kausalya, on the ninth day (Navami) of Shukla Paksha of the Chaithra month, as per the Chaandramaana Calendar (Calendar based on the movements of the Moon).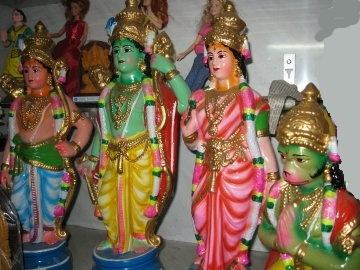 Learn more about Hindu calendar

Navami is the ninth day of the fortnight (fifteen days of the half month). There are two fifteen day periods in every month. The first one is known as 'Shukla Paksha' and the second one is known as the 'Krishna Paksha'. Shukla (white) is when the moon ends as a Full Moon and Krishna (black) is when the moon ends as a New Moon. The Full Moon Day is also known as Poornima and the New Moon day is known as Amavasya.

Raama had three younger brothers. They were Lakshmana, Bharatha, and Shatrughna.

Prince Raama had to go to the forest and stay there for 14 years because of a promise his father had made to his second wife Kaikeyi to fulfill any of her wish she demands of him at any time in the future, following an event in which Kaikeyi had saved the life of King Dasharatha during a battle.

This, Kaikeyi took advantage of, when the time came for crowning a prince as the future King of the Ayodhya Kingdom. She invoked the King's promise and asked for Raama's banishment, so that her son Bharatha could be coronated as the King of Ayodhya.

During the Vanavaasa, Lankan King Raavana kidnapped Seetha and took her to his palace in Lanka. Seetha was imprisoned in the Ashoka Vana in the palace premises and she was persuaded by multiple means by Raavana to marry him. She rejected the evil King's demands and waited for her husband to come and free her from captivity. Lord Raama fought a prolonged war with the Lankan King Raavana to free Seetha from captivity.

Hanuman became deified because he took part with Raama in his war to free Seetha. Hanumantha (alias Hanumantha) is worshipped as a God by Hindus and his birthday known as Hanuman Jayanthi is observed as a festival. Hanuman, Lakshman, the king of monkeys Sugriva and many others helped Raama in his war with Raavana and therefore they are also worshipped. However, Sugriva is not clubbed with Raama because his efforts in the war was limited and localised. Hanuman accompanied Raama when the latter returned to the capital Ayodhya after his triumph in the war. Hanuman was given a respectable position in the court of Raama after he occupied the throne in Ayodhya.

Continued in the column on the right.
From Left to Right: Lakshmana, Lord Rama, Seetha and Hanumantha

Continued from the left column.

Bharatha the son of Kaikeyi refused to be crowned as the king when Raama left for Vanavaasa although it was precisely the desire of Kaikeyi and the reason why Kaikeyi demanded Raama undertake the Vanavaasa. Bharatha loved his brother Raama so much that he did not wish to become a king which position was rightly Raama's.

The noble conduct of Raama, Lakshmana, Seetha, Hanuman and Bharatha is for all Hindus to emulate in their lives.The story of Raama in the epic Raamayana is recited during the festival by chosen men and women for all to hear.

A festival is held to celebrate completion of a harvest, or celebration of the anniversary of inauguration of community halls, temples, etc., or anniversary of birth or death of great personalities belonging to the community.

Relatives and friends watch and observe how well one does the festivals in the current year compared to what one did in the previous years. It is a measure of one's current abilities and enthusiasm. It is a measure of one's prosperity and health to know how well a particular festival is carried out in the current year by the descendant. If you have time and money you may turn it into a large-scale extravaganza or if you don't, then you can moan and groan and give excuses to downsize the whole thing. It requires skills of management and liberal religious or social attitude.

MARYAADA PURUSHOTTAMA RAMA

in the past, kings practiced polygamy and kept many women in their harems, Lord Raama remained a monogamist, with only Seetha as his wife. He was so much aware of his role or Dharma as the King that he took care that no one in his kingdom would find fault in his character or behaviour as a king.

Therefore when he learned from a spy that a washerman among his subjects raised the question whether Raama's wife is a tainted woman because she was in captivity in the palace premises of Lankan King Raavana, he decided to put her to test. Seetha had to walk on the burning embers and come out unscathed if she was pure and she did.

Once Seetha passed the test of her purity Raama took her back as his queen and wife.

Lord Raama is also considered to be an ideal person because he as an ideal son abandoned the throne to fulfil the promise of his father to his stepmother. The conditions put forth by the stepmother were harsh and included a 14-year Vanavaasa for Raama.

There are many temples dedicated to Lord Raama in India andabroad. Lord Raama's portrait in which he stands with his younger brother on his right and his wife Seetha on his left and Hanuman sitting at the feet of the three, next to Seetha on the left is very popular and found in almost every house of Hindus.

In Hinduism Lord Vishnu takes birth in this world from time to time to help the people in most difficult times. This event of incarnation of God is called the Avathaara. Lord Raama is considered one of the ten Avathaara(s) Hinduism has known. Therefore Lord Raama is worshipped as God since many centuries. A portrait or a similar sculpture is garlanded on the Raama Navami Day. A special worship called Puja is performed to Raama, Lakshmana, Seetha and Hanuman together by decorating the portrait with flowers, raising Aarathi to the accompaniment of Jaagate-beating and blowing Shankha , Naivedya, and Sastanga namaskara at an appointed hour on this day in every Raama Temple or in every home where there is a portrait or sculpture of Lord Raama.

Lord Raama is considered to be the ideal person or Purushottama because of the fact that he had only one wife and he followed the Dharma or Rules of Life strictly according to the Scriptures of Hinduism. 'Maryaada' means respect or respectful. It is essential that every person maintains his respect in the society to live in peace among his neighbours. This is more so in the case of a king because he has to live among his subjects. If a king loses respect or Maryaada then he loses his right to be a king and rule his kingdom.

Although Lakshmana was not asked to go on a Vanavaasa he opted to accompany Raama because Lakshmana loved his elder brother very dearly. Although Raama wished his wife Seetha to stay home, to avoid the great hardships of Vanavaasa, Seetha as a good wife joined her husband in the Vanavaasa.